Last year, the Saratoga Springs Accounts Department made a clerical error that, according to court papers, cost the Saratoga Springs City School District $215,400.00 in tax income. During the contentious discussion at the September 7, 2023, City Council meeting, Accounts Commissioner Dillon Moran did not dispute that there had been a clerical error in his office, but Mayor Ron Kim questioned the amount which at the time of the meeting was $217,000.00. The central dispute, though, appeared to be the remedy. The city refuses to provide the school district with the lost income.
The issue is arcane, involving the city's failure to include Quad Graphics on its tax rolls.
Commissioner Dillon Moran has refused to support making the school district whole by paying the lost income. Instead, he advised the school district to either:
1.
Resend all the tax bills to the over 20,000.00 taxpayers in the Saratoga Springs City School District which extends beyond the city's boundaries.
2.
Eat the loss. Moran lectured the Superintendent of the Saratoga Springs School District Mike Patton and Ms. Mullaney that $215,400.00 is a tiny fraction of the total school budget, so they should be able to make some minor cuts and absorb it.
The following is an excerpt from the presentation during which Ms. Mullaney attempts to explain to the Council why sending out twenty thousand revised tax notices would create chaos for the district.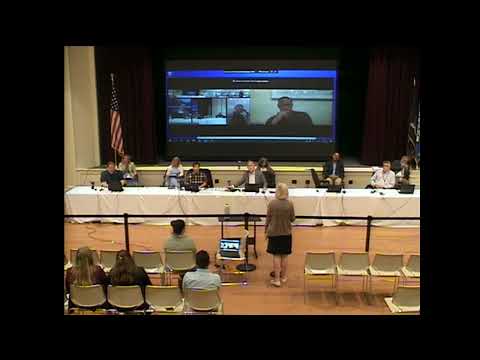 Moran's tone in responding is problematic. At one point, he accuses Ms. Mullaney of "misrepresenting the conversations we had." As the excerpt below documents, he tells Mullaney, "We will see you in court."
It was quite disturbing to observe Moran's open hostility to the representatives of the school district, who were, in contrast, quite conciliatory.