The first of two public hearings on the proposed city budget, required by the city charter, was held at the October 17, 2023, Saratoga Springs City Council meeting.
Prior to the Kim administration, there were no limits on comments made during public hearings. It should be apparent that limiting comments to four minutes makes serious analysis virtually impossible for a document as large and comprehensive as the city's proposed budget. This had never been an issue before.
Nevertheless, Tuesday night, the Mayor insisted on imposing the 4-minute time limit when former Finance Commissioner Michele Madigan stepped up to the microphone. Unfortunately for him, he was dealing with Michele Madigan, whose spirited presentation frustrated his efforts to limit her.
In her comments, Ms. Madigan severely took Finance Commissioner Sanghvi to task for problems with her proposed budget. She specifically made no bones about the deplorable way Sanghvi handled the Public Safety budget. Budget meetings are supposed to be about analyzing the requested and itemized budget proposals by departments on what they need and why. In classic "performance politics," Sanghvi spent a major part of the recent meeting on the Public Safety part of the budget assailing the commission form of government and on the alleged failures of the previous administration. This is because Commissioner Sanghvi feels more comfortable talking about everything other than numbers. The poverty of her ability with numbers is sliced and diced by Lew Benton (past Commissioner of public safety) in the text below following the video of Ms. Madigan's comments.
Lew's analysis is an eye-opener for those willing to read through its figures.
PS For those frustrated with Commissioner Sanghvi's performance in office and disappointed that she is running unopposed, I understand some folks are organizing a write-in campaign for her opponent in the last election, Joanne Kiernan.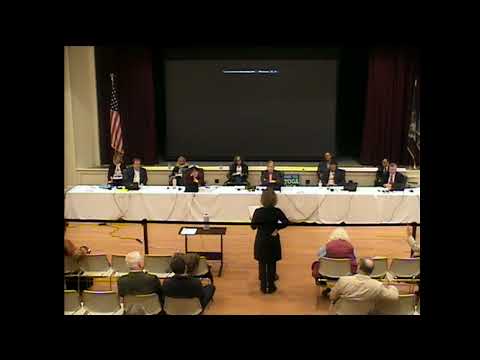 Thoughts On Commissioner Sanghvi's Proposed Budget For 2024 from Lew Benton
The proposed 2024 City Comprehensive Budget as presently constructed is concerning. It will require significant amendments if operating deficits are to be avoided next year.
First and foremost, it includes unfavorable budget variances in both major revenue and expenditure accounts.
This comes on the heels of a 2023 budget, the first prepared and adopted by current City Council members, that preordained the 2024 proposal's many overstated anticipated revenues and, in some cases, grossly underfunded expenditure lines.
The proposed 2024 operating budget is not in balance and must not be adopted until it is. To bring it into balance will require a more realistic examination of several accounts, including those referenced below, and the political will to act.
No doubt, the lack of institutional knowledge and limited understanding of how this government functions on the part of a council made up of first-term members can, in part, temper the inadequacies in the 2023 budget. However failure to recognize and correct them going forward is unacceptable and a violation of the fiduciary's responsibility.
Attempting to transfer blame to those who had no hand in the adoption of the 2023 budget or the preparation of the 2024 plan, citing recent high inflation and the dearth of new revenue streams for the city's fiscal difficulties, rings hollow.
All local governments are faced with the same headwinds. It might be more honest to acknowledge that hiring additional non-essential employees was not prudent, that budgeting non-existent revenues, and that deliberately lowballing major expenditures invites deficit spending.
Following are examples of the unfavorable variances in the proposed 2024 operating budget. There are, to be sure, others.
Revenues
In
Finance
, $850,000 in Hotel Occupancy Tax revenue is proposed for 2024. This is over $100,000 more than was actually realized in FY 2022 and over $600,000 more than has been received to date this year.
The 2023 budget includes a non-existent 'Cannabis Tax' revenue of $250,000. The proposed 2024 budget carries that same amount forward. Potential first-time revenues such as this one do not usually meet expectations. And by prematurely including the revenue in the 2023 budget only added to a negative revenue variance
The proposed Mortgage Tax revenue for 2024 is $1.5 million compared to the $933,400 collected to date this year. The $933,400 is far below the $2.05 million budget.
The Fed's attempts to reign in inflation have depressed mortgage markets even here in Saratoga Springs. Thus, even the $1.5 million proposed seems unrealistic.
The mayor's budget is ripe with unfavorable 2024 revenue variances. The Building Permit account carries a proposed $700,000 revenue even in the face of a major decline in permit revenues this year. To date, Finance lists Building Permit revenue at $352,520, with only $400,000 projected by the end of the FY. This is $300,000 less than was budgeted. Artificially inflating anticipated revenue only increases the structural deficit.
In recent years, this revenue has been strong, but, at least for the short term, it is most unlikely that in one year, that revenue will increase 75%, from $400,000 to $700,000.
Likewise, Planning Board fees are unrealistically overstated. Actual 2022 Planning Board revenue was $122,820. Still, this revenue line was increased to $200,000 in the adopted 2023 budget but is now projected by Finance to fall $35,000 short.
Now, in spite of the anticipated 2023 unfavorable variance, Finance has increased the line to $250,000 for 2024. Perhaps an explanation for this doubling of the 2022 revenue and increasing the anticipated 2023 collections by $85,000 in the 2024 budget is in order.
Other suspect revenue lines in the mayor's budget include Insurance Reimbursement, which went from $ 0- this year to $125,000 next year.
The
Public Safety
revenue budget includes a $300,000 increase in Ambulance Transportation charges over the $2 million projected to be realized by the end of FY-23 and is over $500,000 more than actually collected in 2022.
Unless the fee structure is significantly increased, this revenue line is likely to fall far short of the $2.3 million in the proposed 2024 budget.
Parking Enforcement revenue is now anticipated to be $462,0000 this year, down almost $80,000 from the $540,000 budgeted and $38,000 less than the $500,000 in the 2024 proposal.
Operating Expenditures
The operating budget also includes many likely unfavorable variances. Just as overestimating revenues in the actual 2003 and proposed 2024 budgets contributed to the city's present fiscal dilemma, so have what appears to be unfavorable variances in the operating budgets.
In the 2023
public safety operating budget, the City Council included $190,000 for firefighter overtime. Finance now projects that $ 533,500 will be spent by the end of the fiscal year, an astronomical increase of $343,500 over the budgeted amount
.
Similarly, the Firefighter Compensation Time budget is anticipated to be overspent. Only $190,000 was earmarked for this line in the 2023 budget but $563,000 is anticipated to be spent by year's end, a $ 373,000 overage.
So, too, is the proposed 2024 Police Overtime and Compensation Timelines grossly underfunded. Finance proposes to appropriate the rather odd amount of $263,637 for Compensation Time vis a vis the $483,570 spent in 2022 and the projected $450,000 in 2023. The 2024 OT line is set at $325,000 against the $507,505 expended in 2022 and the estimated $450,000 this year.
In the aggregate, Finance is proposing 2024 Police and Fire Fighter OT and Comp Time expenditures totaling $1,338,637, although corresponding 2022 costs were $1,498,271 and projected 2023 expenditures are $1,981,000.
While there may have been unique circumstances that have resulted in higher than normal Police and Firefighter OT and Compensation Time expenditures this year, the proposed 2024 appropriations are well below what will be needed to avoid the necessity of transferring large amounts during the course of FY 24.
In the Mayor's office, $20,000 was budgeted for outside legal counsel this year, but Finance projects that over $92,000 will be spent. Only $20,000 is earmarked for next year. Now it appears that yet more outside legal services will be retained to investigate an offending mail. This is madness.
These references are not all-inclusive. There are many more questions to be asked and answered. Why, for example, has Code Blue shelter support been cut from the budget.
There is time to prepare a more realistic 2024 operating budget. I hope the City Council will do so lest the new Council be bequeathed an extraordinary fiscal challenge.